CONCRETE HOMES
CONCRETE HOME DESIGN SYSTEM
TOTAL CONCRETE ROOF & WALLS
SOME HOMEOWNERS ASSUME THAT A CONCRETE HOME WILL COST CONSIDERABLY MORE THAN COMPARABLE BRICK CONSTRUCTION. BUT IN REALITY, YOU MAY ACTUALLY SAVE MONEY BY BUILDING WITH CONCRETE WHEN YOU FACTOR IN LIFE-CYCLE COST AND MAINTENANCE REQUIREMENTS.
OTHER ADVANTAGES ARE ENERGY SAVINGS, LESS COST IN HEATING AND COOLING EQUIPMENT, SUBSTANTIAL SAVINGS IN INSURANCE PREMIUMS, SPEED OF CONSTRUCTION AND THE PRICELESS FEELING OF A SAFE ENVIRONMENT!
NOT LIMITED TO HOME CONSTRUCTION BUT ALSO GREAT FOR DUPLEX PROPERTIES, RANCH OR LAKE HOUSE, SHOP/OFFICE OR A BEACH PROPERTY HOME. CURRENTLY OUR STRUCTURE IS RATED FOR

180 MPH WINDS

. A 1500-2300 SQUARE FOOT CONCRETE STRUCTURE IS PRICED IN THE PRICE RANGE OF

$65

PER SQUARE FOOT AND THE INTERIOR CAN BE FINISHED OUT AT A LOWER COST THAN A NORMAL HOME.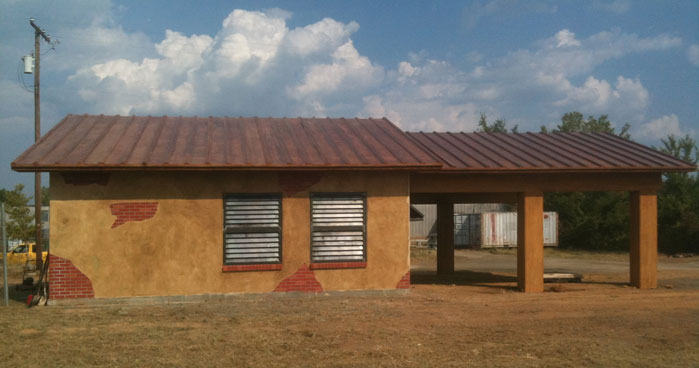 THE

dura

k

rete

HOME WALLS ARE 6" THICK PRECAST PANELS WITH CAST IN INSULATION. THE ROOF HAS A DOUBLE SEAL. A "V" GROOVE PRECAST IN THE JOINT LINES TO ACCEPT A NEOPRENE GASKET, THEN IT'S TOPPED WITH A SPECIAL ELASTIC POLYUREA WEATHER PROOF SEALANT.
THE

dura

k

rete

HOME HAS A PATENTED ROOF DESIGN. IT IS CONSTRUCTED FROM HIGH STRENGTH CONCRETE. THE RIBS ALSO GIVE IT THE APPEARANCE OF A METAL ROOF! THE ROOF HAS A CONTINUOUS CONCRETE GABLE OVERHANG AND EAVE OVERHANG WITH A HORIZONTAL SOFFIT BACK TO THE WALL. THE COMPLETE EXTERIOR IS CONCRETE.



THESE FEATURES PROVIDE RESISTANCE AGAINST TORNADOES, HAIL, FIRE, FALLING LIMBS, TERMITES, RUST, ROT AND FLYING PROJECTILES

SIGNIFICANTLY BETTER THAN HOUSES CONSTRUCTED OF OTHER BUILDING MATERIALS! THE

dura

k

rete

HOME DESIGN SYSTEM HAS BEEN ENGINEERED AND TESTED………

CONSTRUCT YOUR SAFE HOUSE…NOT JUST A SAFE ROOM!!
Fortified for Safe Living!!
Your concrete structure can be built today just as affordable as conventional construction, but built to last for family generations!!
Durable & Secure
RANCH HOUSES
*****
CUSTOM SHOPS
*****
WEEKEND HOMES
*****
STORAGE BUILDINGS
******
RENTAL PROPERTIES

Click Here to Download a Printable Brochure (Adobe Reader Required)